xPace Teams - Not in 2021
The North Carolina Roadrunner's Club (NCRC) Pace Team provides pacers for the full and half marathon runners looking to qualify for the Boston marathon or a personal best. (If you want to be a pace leader, see "Leading a Pace Group" at the bottom of this page.)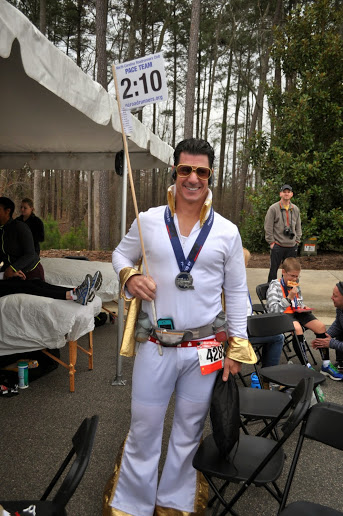 Pace Teams
Pace groups or pace teams are groups of runners that all hope to cross the finish line at a particular time. The group runs together with an experienced leader who will keep track of the pace throughlut the entire race.
One of the greatest benefits is the consistent pacing of a team to make sure you don't start too fast and then hit 'the wall'. Your pace group leader will be be running a consistent pace throughout the race, adjusting for the increased congestion off the start line and during the first mile of the race.
Every pace leader will be holding a steady pace throughout the marathon. These "even splits" are the best way to achieve your peak performance in the race. They will make appropriate adjustments for elevation changes and to deal with course crowding issues.
Pace Group Times
Whether you are trying for a Boston Qualifying time, achieving a personal best, or just like running with a group we've got you covered.The Tobacco Road Marathon pacing groups for the full marathon runners seeking a finishing time from 3:25-7:00; the half marathon groups will be for runners looking to finish with a time of 1:40-3:00.
Full Marathon
3:20
3:25
3:30
3:35
3:40
3:50
3:55
4:05
4:20
4:35
4:50
5:05
5:20
6:00
Half Marathon
1:40
1:45
1:50
2:00
2:10
2:20
2:30
3:00

Note: Pace groups faster than 3:25 subject to availability of pacer leaders.
Joining a Pace Group
It's free to join one of our groups. When you come pickup your race number, make a stop by the NCRC Pace group booth at the pre-race expo and add your name to one of the pace group lists. You are also welcome to just join in with a group at any point of time on race day.
Around 6:30am on race morning, the pace group leaders will be assembling in the starting line corral with their pace sign in a brightly colored pace team t-shirt. Join them in your pursuit of your time goal!
Leading a Pace Group
Are you an experienced full or half marathoner and want to help others achieve their goals? We typically invite pace leaders from prior years to pace again, but there are usually a few openings. Sign up to express your interest to lead a pace group on this form: