Course Maps
The Allscripts Tobacco Road Marathon features over 20 miles of the American Tobacco Trail (ATT), a former railroad line turned rails-to-trails. The Tobacco Road Half Marathon normally includes 8 miles of the ATT and overlaps with the southern portion of the marathon course.
Course Descriptions:
Both races start and finish at the USA Baseball/Thomas Brooks Park. The courses ares mostly flat with only gradual inclines and declines ending with a fast downhill finish. Typically, as many as 18% of marathoners qualify for the legendary Boston Marathon, and all runners benefit from that fast course and ideal temperatures (averaging in the 40's and 50's Fahrenheit). It is a great setting for your personal record; we even have a bell for you to ring and celebrate your BQ or PR at the end!
Note: While the course is called a "trail," it is NOT a trail like an unpaved single-track course. It is more like a greenway and is wide enough to pass other runners throughout the course.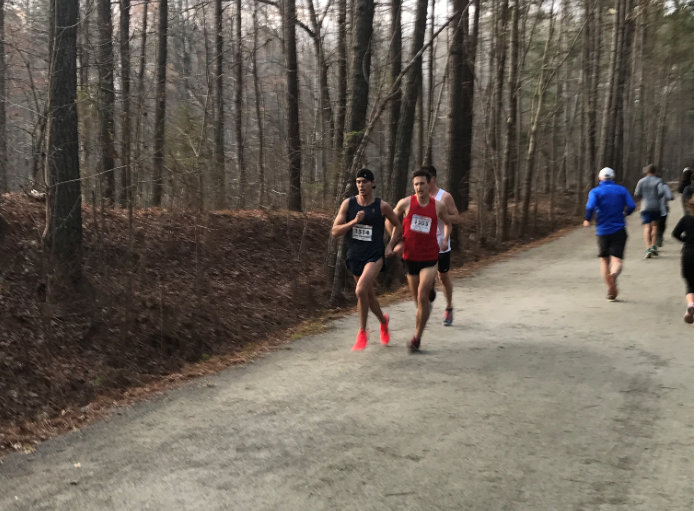 Both courses are USA Track & Field (USATF) certified. (Certification numbers -
Full Marathon 13106NW
,
Half Marathon 13105NW
). They start together and share the same paved road for slightly over two miles. Upon reaching the American Tobacco Trail, the full marathon turns north and the half turns south. For the Full Marathon, the north leg is a paved greenway with crushed granite on the side which gives runners a choice of surfaces to run on through mile 14, returning to the point where the two courses diverged. From there, the two distances share a surface of crushed granite "compacted screenings," and both end returning the two miles to the finish at Thomas Brooks Park. The races begin at 7:00 AM, and the course closes at 2:00 PM providing seven hours for either distance. A total of up to 4000 participants will run these events.
Course Highlights:
Full and half marathon run the same course for 2.5 miles to and from the American Tobacco Trail (ATT)
Full marathon has 21 miles on the ATT and the half marathon has 8 miles on the ATT
Boston Qualifier (Typically 18% of marathon participants)
Mostly flat with only gradual inclines and declines...and a downhill finish that help runners achieve their fastest times
Few turns and minimal vehicular traffic on the course
Bell at the finish line to ring when you finish with a Personal Record or Boston Marathon qualifying time!
Special 2021 Course Descriptions:
The 2021 Tobacco Road Marathon made adjustments to allow for greater social distancing. For both the Full Marathon and the Half Marathon, we had runners start, socially-distanced, with start times from 6:00am to after 8:00am.
The 2021 Full Marathon was our nomral course, but the
2021 Half Marathon
was a loop course to provide greater social distancing. This is important not only to reduce the risk due to COVID-19 but also to reduce the crowding on the course. The American Tobacco Trail (ATT) is open to other users who are not part of our race, and we expect heavier use of the ATT in mid-May then we typically have in mid-March.
The 2021 Half Marathon started at the USA Baseball/Thomas Brooks Park. Instead of our normal exit to the park onto Green Level Church Road, the Half exited the "other side" of the park onto Green Hope School Road (allowing unimpeded car traffic into and out of the park from Green Level Church Road).
0.0 to 2.2 miles. Proceeding west on Green Hope School Road, the Half will then turn right (north) on Green Level Church Road and back left (west) on Morrisville Parkway to get to the American Tobacco Trail. This section will feel mostly flat with an overall increase in elevation of just 15 feet.
2.2 to 2.9 mlies. After a left turn (south) onto the American Tobacco Trail, you will enjoy a 50 foot downhill on a beautiful section of our course to White Oak Church Road. You'll be fully warmed up, so here's where you get to open up!
2.9 to 3.8 miles. Unfortunately, what goes down must come up! This is where you pay back the 50 feet on a 3% grade for about 1/3 of a mile turning right (north) on White Oak Church Road. The course then flattens out until you get back to the ATT and turn left (north). As you turn north on the ATT at mile 3.8, wave to the runners who are in the wave behind you as they turn south on the ATT!
3.8 to 6.3 mles. Here's where it really gets fun. After the earlier "tease" on the ATT, you now get 2.5 miles of 1% downhill. Fast!
6.3 to 7.5 miles. This now shifts to a gradual uphill...but with a grade of only 0.5%. However, after flying down for the prior 2.5 miles, this gradual uphill may make you think "Why did this suddenly get harder?"
7.5 to 8.0 miles. Turning right (east) on O'Kelly Chapel Road, you will encounter a 2.5% incline. We put that there because--well, why not? You don't want it to be too easy. If you are a first time half marathoner or a run/walker, this is definitely a place to plan a brisk walk break for part of the hill.
8.0 to 8.6 miles. The rest of O'Kelly Chapel Road is slightly rolling with an overall slight decline until you turn left (south) on Yates Store Road. If you walked a bit on the earlier hill, you can make up your time here.
8.6 to 10.0 miles. Yates Store Road starts and ends at about the same elevation, but "rolls" up and down to three low spots at two creeks and a lake. This section has about 180 feet of gain and 180 feet of loss in elevation.
If you were running the Tar Heel 10 Miler, you would now be finished! But the best is yet to come...
10.0 to 11.0 miles. Turn left (east) on Carpenter Fire Station Road and then right (south) on Green Level Church Road, with an overall downhill to get to Cary Park Lake.
11.0 to 12.1 miles. Here's where you get to enjoy TWO TUNNELS, one at about 11.1 miles (just two miles to go!) and the second at about 12.1 miles (just one mile to go!), and you will experience the new Mills School Park Greenway. Beware, though, there are a few 50 foot incline hills that you should plan for!
Spectators take note: Since we are not allowing spectators at the finish line, this will be the best section of the course to encourage runners for a final push! Also, if you dropped them off to run, they could walk to meet you at Mills School Park after the race.
12.1 to 13.1 miles. After going through the second tunnel, you will come up to street level on Morrisville Parkway and head west 0.2 miles to Green Level Church Road. Then, you will turn left (south) onto Green Level Church Road for 0.4 miles and take another left turn (east) onto Green Hope Church Road for a final 0.4 miles. The first third of this final mile is slightly uphill..and the rest is flat to the finish!
When you finish, grab a water bottle and pick up your medal, finishers food (provided in a bag), and chocolate milk!
Sorry, no beer or pizza this year. We are sad too!

About the The American Tobacco Trail
The American Tobacco Trail is a recreational rail-trail located on an abandoned railroad corridor of the Norfolk Southern Railroad. Constructed in 1906, the original railroad traveled from Duncan to Durham near the New Hope River, transporting tobacco leaf from farming communities in Wake, Chatham and Durham counties for processing at the American Tobacco Company in Durham.
Construction of Jordan Lake in 1971 necessitated moving a section of the railroad corridor (from Bonsal to southern Durham County) several miles eastward, onto higher ground. Railroad traffic decreased after this time due to competition from interstate trucking. One of the last major uses of the railroad was to haul materials for the construction of the Shearon Harris Nuclear Power Plant near New Hill. With the railroad no longer in use, the tracks were removed in 1987
Local residents began using the rail corridor as an informal recreational trail, and in 1989, a group of citizens organized the nonprofit Triangle Rails To Trails Conservancy to promote the development of the corridor into a managed rail-trail. The N.C. Department of Transportation purchased the corridor from the railroad company in 1995 and subsequently leased the corridor to the counties to be developed and operated as a recreational trail open to the public.
It was officially named the American Tobacco Trail to reflect its historical roots, and planning and construction of the trail began. The trail is being built in sections, the first of which opened in 2001 in downtown Durham. Wake County opened its first, 3.75-mile section, from New Hill-Olive Chapel Road to Wimberly Road, in 2003. Wake County opened Phase II of the American Tobacco Trail in July 2005, extending the length from 3.75 miles to 5.5 miles. In 2006, the remaining one-mile section in Wake County was completed to fully extend Wake County's portion of the trail to 6.5 miles. Additionally, Wake County added a trailhead that accommodates 45 vehicle and 10 horse trailer spaces. Two restroom facilities were added to New Hill and White Oak trailheads.
Read more about the American Tobacco Trail.