Registration includes short sleeve (gender specific) technical tshirt, other swag (we are working on it), free entry to the runner expo to all and food and beverages at the finish. Purchase a parking pass

($10)

if you need parking at the race venue; there are only 900 available. If you don't purchase a parking pass, or parking passes are sold out we offer a free shuttle service to and from the event from the NetApp parking lot in Morrisville. The shuttle can also be used by your friends and family for free (runners have priority) to come see you finish your event!

Course Highlights
Half and Full Marathon will be the same course for 2.5 miles to and from the American Tobacco Trail (ATT)
Full Marathon has 21 miles on the ATT and the half has 8 miles on the ATT
Fewer turns on paved roads and minimal vehicular traffic on the course
One less hill on the course, making it even faster than before, including a downhill finish
Main entrance into USA Baseball Complex at Green Hope School Road is open for easier shuttle and vehicle traffic
This race is most definitely a Boston Qualifier. There will be fast times!
USATF Certified Courses (Certification number - Full Marathon 13106NW, Half Marathon 13105NW)
The Tobacco Road Marathon will be the first of its kind in NC to embrace the town of Cary and country roads of Western Wake County. The marathon features over 20 miles of the American Tobacco Trail. The rest of the course is be flat and fast with a downhill finish and a must do for the Boston Qualifier!
Both races will begin at 7am on Brooks Park Lane and head towards the entrance of Thomas Brooks Park. At Green Level Church Road, runners make a right and follow Green Level Church Road past Green Hope School Road to Morrisville Parkway. At Morrisville Parkway, runners make a left and proceed for a little over 1 mile to the American Tobacco Trail (ATT).

Marathon runners make a right on the ATT and go north to a u-turn, proceed down the ATT to the southern end and u-turn at Olive Chapel. To return to the park runners will exit the ATT at Morrisville Parkway and retrace their steps to the Thomas Brooks Park. return to , while half marathon runners will make a left at the ATT and go toward the south.
Half Marathon Runners have a simple out-and-back course. From Morrisville Parkway runners make a left on the ATT and go south to a u-turn point just past the Highway 64 under path.
The first and last 2.5 miles of both races are on paved roadways and the ATT surface is compacted screenings with some sections a combination of asphalt and compacted screenings.

Due to the narrow trail, the volume of runners, and the need to keep access for medical vehicles we do not allow joggers or strollers on our course. Special consideration for groups pushing a disabled athlete may be requested by emailing the Race Director at Info@TobaccoRoadMarathon.com.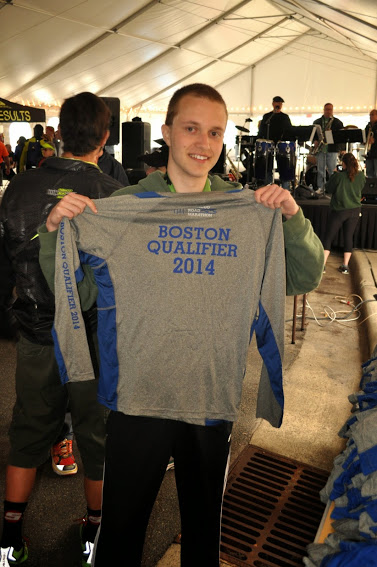 We like to recognize great accomplishments at the Tobacco Road Marathon! When you cross that finish line with a Boston Marathon qualifying (BQ) time or a personal best (PR for personal record), ring our celebratory bell so we can all share in your accomplishment! The bell is just beyond the finish line.

After you make it through the finish line, collect your medal, and refuel at our post-race party, stop by our awards table. We have a special Boston Qualifying t-shirt for you. Be proud of your accomplishment, we sure are!

Qualifying standards for the Boston Marathon are posted on their site and are defined by the Boston Athletic Association.

Keep in mind that 10 percent of Tobacco Road Marathon runners qualify for the Boston Marathon; that's why our event, conducted on the fast, flat American Tobacco Trail is known as a "Boston Qualifier."
Course Highlights
Full and half marathon run the same course for 2.5 miles to and from the American Tobacco Trail (ATT)
Full marathon has 21 miles on the ATT and the half marathon has 8 miles on the ATT
Boston Qualifier
Very few hills and a downhill finish help runners achieve their fastest times
Ring the bell at the finish line when you finish with a personal best or Boston Marathon qualifying time
Minimal turns on paved roads and minimal vehicular traffic on the course
Main entrance into USA Baseball Complex at Green Hope School Road is open for easier shuttle and vehicle traffic
USA Track & Field (USATF) Certified Courses (Certification number - full marathon 13106NW, half marathon 13105NW)
Download Maps:
Marathon
Half Marathon
Venue
The Expo will be held at our host hotel, the Embassy Suites of Cary, located at 201 Harrison Oaks Blvd., Cary, NC 27513.

Friday, March 15, 2019 from 3pm - 8pm
aturday, March 16, 2019 from 10am - 5pm

What to do at the Expo

After you get your race number take a walk through our Expo. There will be food and drinks to sample, snacks to purchase, new fitness programs to try out, as well as a chance to find out about some of the other local races in the area. The Raleigh area Race Director community is a very tight-knit group and we are excited to promote many of the other great runs from 5K to ultra marathons and relay events.

If you are a runner and planning on running with a pace team, look for the pacer both at the Expo to learn about the different pace groups and let them know you will be joining them. In addition, if you are planning on getting a post-race massage, go ahead and pre-pay for that at the Expo so you can get to the top of the waiting list after your run!

Many of our sponsors and other vendors will be in attendance offering samples and special discounts for purchases made during the expo. In addition, there will be some Tobacco Road Marathon and Half Marathon merchandise available for purchase only at the Expo. Check out our tips for the best Expo experience as well as enjoying the entire weekend.


Packet pickup is available at the pre-race Expo held the Friday and Saturday before the race at the Embassy Suites located at 201 Harrison Oaks Blvd in Cary, NC
.
Registration and changing race distances will be avaialble at the Expo if space remains. HOWEVER, the half marathon normally sells out well in advance, and there will be no transfers TO the half marathon once all slots are taken. If space remains in the full marathon, you may upgrade from the half to the full marathon for an additional fee.
Expected Expo & Packet Pickup Times:
Friday, March 15, 2019 from 3pm - 8pm
Saturday, March 16, 2019 from 10am - 5pm
If you purchased a parking pass, there is a separate table to pick those up after you get your race bib. After that, proceed through the expo to pick up your race shirt and goodies on the far wall of the expo. Bag check tags for Sunday morning will also be available.
Registration and packet pickup will NOT be available on race day.
When you come to Packet Pickup, be sure to...
Pick up your Race Bib
Pick up your Parking Pass, if you purchased one
Study the Course Map and Parking Instructions
Pick up your T-Shirt and any other race merchandise you may have gotten
(Sometimes we have special merchandise as part of race registration promotions.)
Visit the vendors in the Expo
Get a good night's sleep Saturday night
Arrive early on Sunday to avoid any extra stress
Enjoy your race!
We are excited about the annual Tobacco Road Marathon and looking forward to another full expo with some of our favorite vendors around. Over 4,000 participants plus friends and family attend the expo for runners to pick up their race bibs and t-shirts. This event is free and open to the public.

The Expo is held at the Embassy Suites at

201 Harrison Oaks Blvd, Cary, NC 27513 on:



Friday, March 15, 2019 from 3pm - 8pm
Saturday, March 16, 2019 from 10am - 5pm

Booth Space:

Each 10x10 booth space comes with a dressed six-foot table and 2 chairs; electricity is available for an additional fee, upon request.

Setup & Teardown:

Setup begins Friday at 11am; all booths must be setup by 2:45pm. You are free to come anytime between 11am and 2pm to setup. Expo halls are locked overnight and the doors are only open when a member of the Tobacco Road Marathon staff is present.

Teardown is from 5pm to 6pm on Saturday. We ask that vendors ensure that someone is present at your booth until the expo closes each day. Please do not leave or tear down early as this causes an incomplete experience for our runners.



Potential elite participants must submit a detailed running resume before March 1 to Elites@TobaccoRoadMarathon.com. All entrants will be decided on a case-by-case basis.
The time requirements to be considered an Elite athlete are below.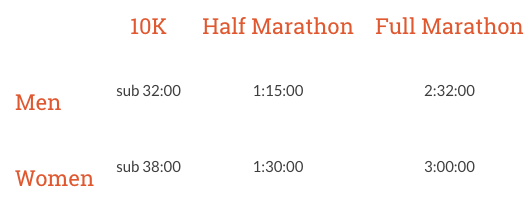 The North Carolina Roadrunner's Club (NCRC) Pace Team provides pacers for the full and half marathon runners looking to qualify for the Boston marathon or a personal best.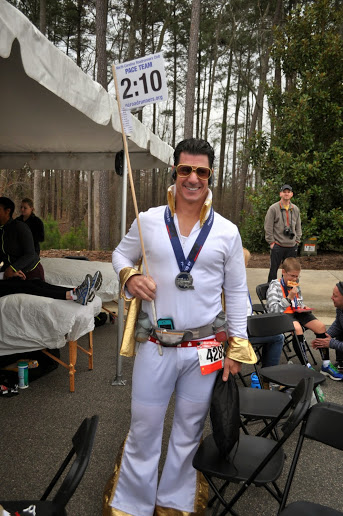 Pace Teams
Pace groups or pace teams are groups of runners that all hope to cross the finish line at a particular time. The group runs together with an experienced leader who will keep track of the pace throughlut the entire race.
One of the greatest benefits is the consistent pacing of a team to make sure you don't start too fast and then hit 'the wall'. Your pace group leader will be be runn
ing a consistent pace throughout the race, adjusting for the increased congestion off the start line and during the first mile of the race.
Every pace leader will be holding a steady pace throughout the marathon. These "even splits" are the best way to achieve your peak performance in the race. They will make appropriate adjustments for elevation changes and to deal with course crowding issues.
Pace Group Times
Whether you are trying for a Boston Qualifying time, achieving a personal best, or just like running with a group we've got you covered.The Tobacco Road Marathon pacing groups for the full marathon runners seeking a finishing time from 3:15-7:00; the half marathon groups will be for runners looking to finish with a time of 1:40-3:00.
Full Marathon
3:25
3:30
3:35
3:45
3:55
4:00
4:10
4:25
4:40
4:55
5:10
5:25
6:00
7:00
Half Marathon
1:40
1:45
1:50
2:00
2:10
2:20
2:30
3:00
Joining a Pace Group
It's free to join one of our groups. When you come pickup your race number, make a stop by the NCRC Pace group booth at the pre-race expo and add your name to one of the pace group lists. You are also welcome to just join in with a group at any point of time on race day.
Around 6:30am on race morning, the pace group leaders will be assembling in the starting line corral with their pace sign in a brightly colored pace team t-shirt. Take note that there will also be additional signs in the corrals to help runners organize by their per mile pace. The pace team signs will be held by the leaders.
If you are new to the area or visiting, please plan your route before race morning. Below are the locations as shown by Google Maps for USA Baseball, Thomas Brooks Park, and Net App. For the most accurate directions use those sites to plan your route from your starting location.
Google Maps
Thomas Brooks Park

: map directions to address 111 Brooks Park Lane, Cary, NC

USA Baseball

: map directions to the intersection of Brooks Park Lane & Green Hope School Road, Cary, NC

Net App

: map directions to address 7301 Kit Creek Road, Durham, NC
General Driving Directions to USA Baseball
From Cary
Take High House Rd. towards Hwy. 55

Turn Right onto Hwy. 55

Drive to the next stop light, turn Left at the stop light onto Green Hope School Rd.

Drive approximately 1.5 miles, turn Left into USA Baseball
From Chapel Hill/Durham via Interstate 40
Take I-40 east towards Raleigh

Take exit 278 for Hwy. 55 and go towards Apex

Drive approximately 7.5 miles, turn Right at the stop light onto Green Hope School Rd.

Drive approximately 1.5 miles, turn Left into USA Baseball
From Pittsboro via US-64
Take US-64 towards Raleigh

Take the Hwy. 55 exit towards Apex/Durham

Turn Left towards Durham

Drive approximately 4 miles, turn Left at the stop light onto Green Hope School Rd.

Drive approximately 1.5 miles, turn Left into USA Baseball
From Garner via US-70
Take US-70 west towards Raleigh

Turn left onto the I-40 W ramp to I-440/US-64 W/Cary Durham/Farmers Market

Merge onto I-40/US-64 W

Take Exit 293A for US-1 South

Take exit 98B for US-64 W toward Pittsboro/Asheboro

Take the NC 55 exit towards Apex/Durham,

Turn Right onto Hwy. 55 towards Durham

Drive approximately 4 miles, turn Left at the stop light onto Green Hope School Rd.

Drive approximately 1.5 miles, turn Left into USA Baseball
From North Raleigh via 540
Take 540 west/south past I-40

Take exit 66A for NC 55 East towards Apex

Turn Left onto Hwy. 55

Turn Right onto Green Hope School Rd.

Drive approximately 1.5 miles, turn left into USA Baseball
From time to time you'll find special information here regarding news and deals from the Tobacco Road Marathon.