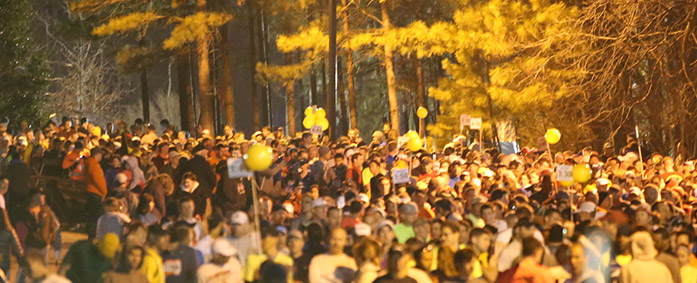 Our 2019 event will mark an important milestone: One Million Dollars (yes, $1,000,000) in charitable giving. The primary beneficiaries are JDRF, American Red Cross, Hope For The Warriors, and Triangle Rails To Trails Conservancy. If you have run with us before, we want you to be very proud of helping us achieve record annual contributions the last several years for a current cumulative total of $916,000. That puts us well within the range of eclipsing the $1,000,000 threshold and much more in 2019. If you have never raced one of our races - the marathon or the half - then there has never been a better time to join us on our fast, flat, and fun American Tobacco Trail course. Our all-volunteer board and 700 race day volunteers want you to be a part of our Million Dollar Marathon! Run for doing good works in our community and beyond!

The Allscripts Tobacco Road Marathon and Feetures! Half Marathon are the first of their kind to embrace the town of Cary, North Carolina, and Western Wake County. They are organized by a non-profit -- 501(c)(3) -- organization dedicated with its sponsors to providing financial assistance to its partner charities by channeling the passions of runners everywhere, and particularly those in the North Carolina Triangle area, into a powerful force for good.

The overall event weekend is organized by an all-volunteer staff and 100 percent of proceeds go to charity.

In addition, the event greatly benefits the city of Cary and the surrounding communities. Approximately 4000 runners plus 7000 spectators are expected to visit. With the race being held on Sunday, many runners will make Cary a weekend destination; arriving on Friday to get settled and spending Saturday enjoying the shops, people and great food of the local communities. The enormous economic benefit from hosting a marathon has been demonstrated in nearby cities that stage similar events such as Richmond, Charlotte, and the Outer Banks.

The inaugural event was held March 21, 2010, with over 3,400 registered runners, representing 39 States and has grown every year. In 2014 the Tobacco Road Marathon was named by Runner's World Magazine as one of the top nine best new marathons.
The Tobacco Road Marathon is a 501(c)(3) non-profit entity run by a group of volunteers. No member of the Board is paid as a result of this race. We are all a part of this race because of our love of running and a desire to share our experience with others.

Kazem Yahyapour - President
Kazem is owner and president of Auto Dealers Investments Inc. Since 2001, Kazem has made a successful transition from the corporate high-tech world to running his own financial company. He is president of the Wakefield High School Wolverine Athletic Booster Club and is a coach for Wakefield High School's cross country team. Kazem is Co-Founder of City of Oaks Marathon and race director for Wakefield high school's Students Against Drinking and Driving 5K race. The Wakefield race was organized to increase awareness of the dangers of drinking and driving.
Diagnosed with coronary artery disease in 2002, Kazem started running to lose weight and improve his general health. Within four months, he ran his first marathon (Myrtle Beach) and, since then, has run an additional 15 marathons. His favorite is the Boston Marathon, which he has finished 10 times. Kazem has a true passion for running.



Cid L. Cardoso Jr. - Vice President
Cid Cardoso, Jr. has completed 28 Ironman races including Hawaii Ironman 8 times. His fastest Ironman time is 9 hr and 47 min and his fastest Hawaii Ironman time is 10 hr and 14 min. Cid has finished in the top 5 overall at the Umstead Marathon 4 times, including a win in 2004. He has raced the Mount Mitchell 40 Mile Challenge numerous times, including 2 second place overall finishes. In 2014, he qualified for USAT's Long Distance World Duathlon Championships in Switzerland and the Ironman 70.3 Triathlon World Championships in Canada.
Born in Sao Paulo, Brazil, Cid studied business at the University of Virginia. He is the owner and founder of Inside-Out Sports, which has been serving runners and triathletes in North Carolina for over 20 years, with locations in Cary, Raleigh and Charlotte. Cid lives in Cary with his wife of 20 years, Kathleen, daughter Alexa, son Scott and daughter Monica.

Mark Dill - Marketing and Publicity
Mark Dill, president of Mark Dill Enterprises, Inc., has dedicated his career to the profession of public relations and marketing. Mark has worked in a number of executive vice president positions for a variety of corporations including AT&T in Silicon Valley, Nortel in RTP, Corvis of Maryland, Blue Cross-Blue Shield NC and the Indianapolis Motor Speedway. He holds baccalaureates in journalism and marketing from Indiana University and Long Beach State respectively as well as an MBA from San Jose State.
Dedicated to exercise Mark has completed marathons and numerous half marathons including the 2010 Tobacco Road Half Marathon. Mark and Esther, a Boston Qualifier runner, have lived in Cary for 23 years. Together they raised two daughters, Tamara and Sherri, graduates of NC State and UNC Wilmington, respectively.

Dave Cockman - Medical

Jon Flaherty - Sponsorship
Jon Flaherty is an Alliance Director for SAS Institute and is leading the efforts to jointly build out an Analytics Academy with Accenture. About to celebrate his 27th year with SAS, Jon attributes much of his success in running and fitness to the corporate environment SAS has provided over his career with the company.
Promotion of fitness has always been emphasized within SAS, and it was in 1989 when Jon ran his first marathon, the US Marine Corps Marathon. Since that time he has averaged at least one marathon a year. Highlights in his running career were his first marathon PR(2:48) set in Boston in 1996, and later to be broken in Chicago in 2001 with a 2:46 finishing time. Additionally, he is a World Duathlon qualifier and has gone on to compete in Ultra events.
A graduate of NC State, he resides in Apex with his wife and two daughters.
Open - Aid Stations

Tim Kirk - Race Village
For over a decade, Tim has been actively involved in planning and volunteering in races in Massachusetts and North Carolina. He also has enjoyed coaching his sons in various sports including coaching his youngest son, as an unaffiliated runner, to the national finals of Junior Olympics in cross country.
After years of less than healthy living, Tim made a drastic change to his lifestyle and began running marathons in 2004, with the Bay State Marathon. As a runner, he has raced all distances from 5K through ultra-marathon. He has run several marathons, with a PR of 3:34, and is a three time finisher of the Boston Marathon. In addition, Tim is an avid road and mountain biker. When he isn't working, you'll find him mountain biking, running trails, disc golfing or travelling.
Tim is the owner and principle of All Out Sports Marketing, LLC, a manufacturers' rep agency specializing in endurance sports products and operating throughout the southeast and mid-Atlantic U.S. This is the perfect job for Tim as it allows him to work and play in the industry as well as to interact daily with runners and athletes of all abilities and accomplishments.
Tim and his wife, Caryn, reside in Raleigh, NC. They have two grown sons, Ryan and Evan. The entire family enjoys long distance running and staying active in nature.

Martha Namie - Race Expo
Martha is a Field Sales Executive for Education & Consulting Services at Allscripts, where she brings innovative information technology and learning solutions to healthcare providers throughout the United States. An endurance athlete since middle school, Martha competes regularly in road and trail events and has run the half at Tobacco Road three times. New to the world of multisport, she is currently training for the Ironman 70.3 distance. With a passion for health and wellness, Martha is a Run Club coach at Lifetime Fitness where she enjoys mentoring runners of all levels.

Michael Yahyapour - Finance
Michael came on to the board in the summer of 2010, and serves as the treasurer and finance manager for the Tobacco Road Marathon. He has been on teams producing 5k and 10k races. Michael enjoys basketball, football, and most sprint distance races; he hopes to run the Tobacco Road Marathon in the near future.
Michael majored in Accounting and Finance from the University of North Carolina Wilmington. He works for Auto Dealers Investments and also runs his own consulting business on the side.


Linda Hatfield - Run Club Relationships
Linda is the Regional Run Coordinator/Cycle Instructor at LifeTime.Life in Cary, NC. You may find her in nearly every kind of running event--from the NC Beer Mile or Krispy Kreme Challenge to Trail and Road Marathons (including Boston) to Half and Full Ironman Triathlons. If you have a run club, invite her to talk to your group (and maybe even bring a discount code) about the Tobacco Road Marathon!

Ken Polleck - Athlete Communications, Web Site, and Race Day Bag Check
Ken was a lifelong non-athlete, non-runner until, upon hitting his 49th birthday, he realized that needed to change. He has now been running for seven years and has run over 70 full and half marathons plus a dozen ultra marathons including two 100-mile ultras at Umstead State Park.

He credits his running success and enjoyment to several now-close friends including (a) Ron Wahula, the leader of the running group Ken runs with on Saturday mornings, https://www.raleighgalloway.com/, (b) Kaz Yahyapour, the director of https://tobaccoroadmarathon.com/ who asked Ken to come volunteer before the start of the 2012 Tobacco Road Marathon and then run the half, and (c) Deborah Blizard, his running love (and girlfriend).

Ken's picture above is from running his first FULL Tobacco Road Marathon in 2013.

---
Race Committee
The Board of Directors is assisted by members of the Race Committtee.

The Tobacco Road Marathon is successful because of our dedicated group of committee members. Each person takes such a high degree of ownership of their tasks that it makes race day the best possible. As with our Board of Directors, the Tobacco Road Marathon does not pay the committee members for time spent on the race.
Dawn Dixon - Volunteer Coordinator
Dawn is originally from Kenya, Africa (yes they have the fastest runners!) She moved to South Africa at the age of 17 where she met her husband, Bobby Dixon. In 1997 Dawn and Bobby moved to the states and Dawn taugh ice skating to preschoolers for 13 years. She is a big fan of ice hockey and also enjoys cycling, swimming, walking, and working out.
Dawn is the ultimate support crew for her family with a husband and son, Dwayne Dixon, who both do triathlons and foot races of every distance.
She began working with FS Series, the timing company supporting Tobacco Road, coordinating volunteers for their races and in 2014 Dawn came on board the Tobacco Road race committee to organize all our volunteers.
Rebecca Sitton - Pace Groups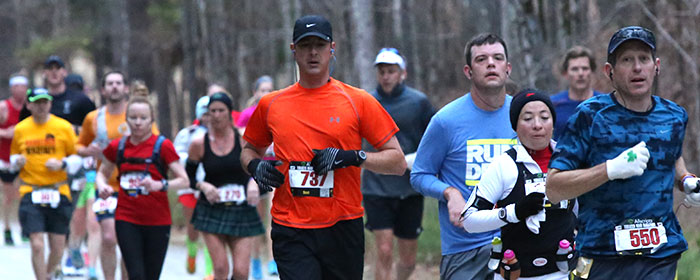 The inaugural Tobacco Road Marathon (TRM) and Half Marathon events were held on Sunday, March 21, 2010, with over 3,400 registered runners representing 39 States. The overall event has seen steady growth since then with record entries approaching course capacity of about 4,500 runners in 2014. The event weekend now attracts runners not only from across America but internationally as well. Steady growth has drawn sponsors to both races and enabled the all-volunteer TRM staff to steadily increase charitable contributions. In 2018, cumulative giving exceeded $900,000 to outstanding charities such as Juvenile Diabetes Research Foundation (JDRF), various military veterans organizations, the American Red Cross, Wake County Parks and Recreation, Triangle Rails To Trails, and the YMCA. The fast, flat nature of the course combined with ideal running temperatures found during the Carolina springtime makes running our events very attractive to those seeking to qualify for the Boston Marathon or to simply achieve a new personal record.

The American Tobacco Trail is a recreational rail-trail located on an abandoned railroad corridor of the Norfolk Southern Railroad. Constructed in 1906, the original railroad traveled from Duncan to Durham near the New Hope River, transporting tobacco leaf from farming communities in Wake, Chatham and Durham counties for processing at the American Tobacco Company in Durham. Construction of Jordan Lake in 1971 necessitated moving a section of the railroad corridor (from Bonsal to southern Durham County) several miles eastward onto higher ground. Railroad traffic decreased after this time due to competition from interstate trucking. One of the last major uses of the railroad was to haul materials for the construction of the Shearon Harris Nuclear Power Plant near New Hill. With the railroad no longer in use, the tracks were removed in 1987.

Local residents began using the rail corridor as an informal recreational trail, and in 1989, a group of citizens organized the nonprofit Triangle Rails To Trails Conservancy to promote the development of the corridor into a managed rail-trail. The NC Department of Transportation purchased the corridor from the railroad company in 1995 and subsequently leased the corridor to the counties to be developed and operated as a recreational trail open to the public.

It was officially named the American Tobacco Trail to reflect its historical roots, and planning and construction of the trail began. The trail is being built in sections, the first of which opened in 2000 in downtown Durham. Wake County opened its first, 3.5-mile section, from New Hill-Olive Chapel Road to Wimberly Road, in 2003. Wake County opened Phase II of the American Tobacco Trail in July 2005, extending the length to 5.5 miles. In 2006, the remaining one-mile section in Wake County was completed to fully extend Wake County's portion of the trail to 6.5 miles. Additionally, Wake County added a trailhead that accommodates 45 vehicle and 10 horse trailer spaces. Two restroom facilities were added to New Hill and White Oak trailheads. Today, the American Tobacco Trail is nearly 23 miles long.

The American Tobacco Trail is a tremendous asset for our community, and your running the Tobacco Road Marathon helps support this resource. By the end of 2018, an extension of Cary's White Oak Creek Greenway will connect to the Trail near Green Level West Road (near the 4 and 9 mile markers of the Half Marathon). While this connection is not used by the Tobacco Road Marathon, it will provide local runners who are training for the race easier access to train on the Trail.

Join us in 2019 to be part of our Million Dollar year...a cumulative total of charitable given by you, the runners of the Tobacco Road Marathon.
Nine years. Ten races. One Million Dollars.